Lake Worth is an up-and-coming hidden gem of a city that has seen huge growth in recent years. Primarily due to it being a lively city and having a perfect blend of peacefulness and excitement. The city has a rich culture, beautiful beaches, and a thriving downtown area. However, one of the best things this city has to offer is lots of gated communities. There are various communities that offer security, lots of resort-style amenities, and a variety of home styles, for those looking for comfort and a luxurious lifestyle.
What to Look for in a Gated Community?
When looking for a gated community, there are a few factors to consider:
– HOA Inclusions: HOA fees can cover many services like landscaping, security, and maintenance of common areas. You should have a complete understanding of what the fees are and what they will cover so you can have a budget in mind.
– Amenities: Amenities are there to provide you with a richer living experience. So be sure the community has everything you personally need such as a resort-style pool, spas, fitness center, clubhouse, walking paths, and of course, top-notch security.
– Types of Homes: Gated communities were once sold as lots with models to choose from a catalog. So be sure to look at communities with your desired type of home such as a single-family, villa, townhouse, or a condo. Also, style whether you like modern, Mediterranean, or more traditional styles. It is vital to also align the community not only with your taste but also your space and budget requirements.
– Proximity to Shopping, Dining, and Entertainment: Be sure to see nearby shopping plazas, central entertainment spots, and any future development plan near the community so you have the added convenience.
– Community Feel: Each community has its own culture and unique vibe. Some communities are very tight-knit with a strong emphasis on making friends while others are more reserved. That's why we recommend visiting the community once or twice to see if it fits your lifestyle.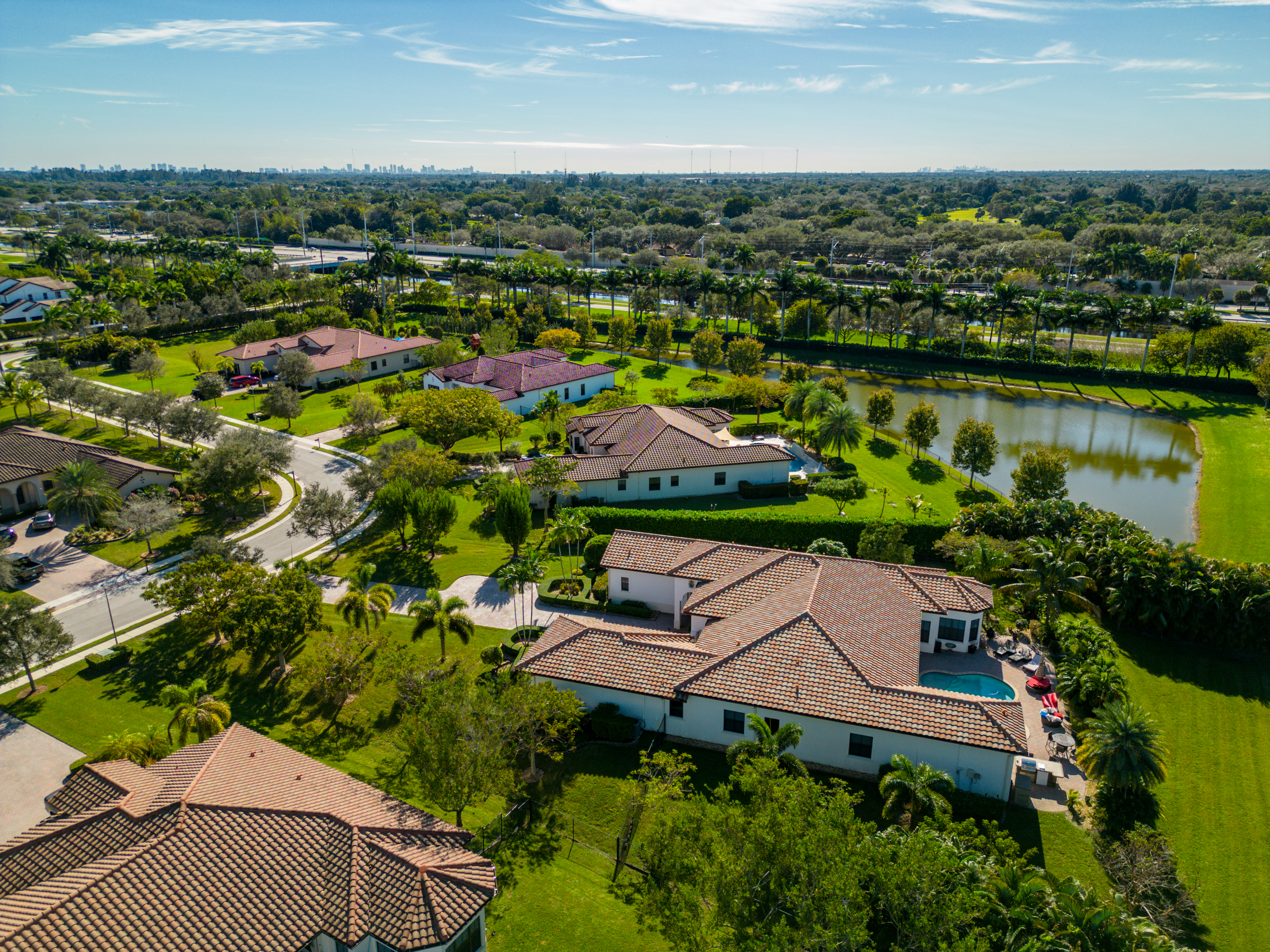 What Makes a Gated Community So Great?
Before looking for the right gated community, one must know what it is about gated communities that makes them stand out. Gated communities have been in high demand due to what they provide to their residents. In a gated community, you get a blend of privacy, community living, and security. The neighborhoods are well-designed where you get to keep your individual privacy and belong to a community when you desire it. Inside gated communities, you can expect well-maintained parks and overall high-quality landscaping with many outdoor activities that promote community engagement.
The strict access through manned gates and 24/7 security monitoring provide a very secure environment for you and your family. Many high-quality gated communities offer resort-like lifestyles with top-end amenities like state-of-the-art gyms, large clubhouses, and resort-style pools. Some newer communities even have their own small shopping centers and restaurants, and on rare occasions, a few have popped up where you can raise your own crops like Arden in Loxahatchee.
Now let's review the best gated communities that Lake Worth has to offer.
Andalucia: A Haven for Style and Comfort
One of the most beautiful and newer built communities in Lake Worth is Andalucia. It was built out by a partnership between two builders, CalAtlantic and Lennar Homes, Andalucia features a blend of single-family and townhomes which are designed in a contemporary style. If you are looking for newer built residences with modern design, this is the place to go in Lake Worth. There are two collections to choose from, one is the gorgeous Vineyard and the other is the more spacious Coastal Collection. You have an option of choosing between a 3 to 5 bedroom model with 2 to 4 bathrooms.
This is an ideal community for families looking to have a move-in-ready home that won't require any renovations or repairs in the near future. Being a newer construction, all properties have impact windows, high ceilings, gourmet kitchens with stainless steel appliances, and spacious bedrooms.In addition to the two collections mentioned, Andalucia created Sierra and Towns of Andalucia as well which offer new construction townhomes with 3 bedrooms, 2.5 baths, and 1-2 space car garages. This gives you more options on the type of property you may want to live inside the community.
Being a gated community, there are plenty of amenities. A community pool with a cabana area, a tot lot, neighborhood parks, and lots of open green spaces. The monthly HOA is very reasonable in this community, perfect for those looking to have luxury living without too much monthly overhead.
Capistara: Where Comfort and Elegance Meet
Another gorgeous gated community in Lake Worth that is known for its beautiful homes and great community layout is Capistara. Also developed by Lennar, Capistara has 110 single-family homes built in a Mediterranean style architecture. You can rest assured of the quality of the homes because they are built using the finest quality materials. Inside the homes, you will find open floor plans, top-end appliances, kitchen islands, washrooms, and an overall thoroughly thought-through layout. Being these homes were built within the last few years they all have impact windows for hurricane protection.
You can choose homes from 3 to 5 bedrooms with home sizes between 1800 to 3500 square feet of living space. The homes are situated on oversized lots providing plenty of space for outdoor living and leisure.
Inside the community, there are amenities you can enjoy from walking or running on neighborhood paths, to swimming in the pool or just lounging in the cabana area. Like most gated communities, the HOA fee is very reasonable in comparison to nearby cities. This is a great community for newlyweds, new families, and even active adults.
The Fields: A Community That Has It All
Located right off Lake Worth road, this gated community provides a top living experience. It is conveniently located near shopping plazas, restaurants, schools, and recreational facilities. Just like Andalucia, The Fields has both single-family homes and townhomes to fit your needs and budget.
The townhomes which are in the executive and signature collection offer 3 bedroom 2.5 with 2 car garage residences with 1900 square feet of living space. If you're looking for something bigger the Manor, Province, and The Estate Series have options for up to 6 bedrooms, 2-4 bathrooms, and up to 3200 square feet of space under air.
Some of the community amenities include a pool, playground for kids, play field, fire pit and BBQ area plus a clubhouse for socializing or hosting events. This is a very cozy community that mixes comfort and quality lifestyle together.
Gulfstream Preserve: Breathtaking Homes
This one-of-a-kind community in Lake Worth has some of the most gorgeous homes with beautiful exterior designs. There are 211 homes with 2-4 bedrooms, 2.5 -4 bathrooms, and 2-3 car garage spaces. Compared to other communities these homes are a little bigger and ideal for larger families with up to 3500 square feet in size. Just like most of the communities on our list, this one was also recently built by Lennar, so you have hurricane impact windows and garage door, plus the latest and greatest interior amenities. The big benefit of this community is that you can get a very high-end home for much less than you would in a similar community in some of the more established cities.
Just as you'd expect, the community also has a lot of great and necessary amenities for South Florida living. This is a very beautiful community once you get inside there are many lakes and well-kept grounds that promote an active outdoor lifestyle. There are also amenities you and your family can enjoy like a pool, kids' playground, and a BBQ area. If you're looking for luxury, security, and great homes, this is definitely the community for you.
Osprey Oaks
Also located right by Lake Worth road with convenient access to both I95 and Turnpike, is a luxury community of Osprey Oaks. This community is in high demand due to low HOA, excellent schools, location, and, most importantly, amazing large homes. It is also near to major shopping centers and recreational facilities, plus many dining options.
The homes here are truly amazing with large brick-paved driveways, impact windows, oversized one-acre lots, high ceilings, and top-end decorative finishes. There are only 155 homes so it is rare they hit the market but when they do, it's always a great home to buy. If you are someone looking for the most luxurious homes for a reasonable price, then this should be the first community to stop by.
The community also has some great amenities like a large swimming pool, a clubhouse, lots of lakes and natural preserve plus walking trails and bike paths. If you are all about the home and spacious lots this is the community for you.
Summary
Lake Worth is a great city that is seeing major improvements every year and more people are moving there due to its beaches, broad variety of entertainment and dining options, and some newly constructed amazing gated communities. Although there are many gated communities in this wonderful city, the ones we described are newer and more upscale than what's on the market. They are all great choices but as experienced real estate brokers, we recommend visiting multiple communities so you can absorb the feel and see which communities feel most like home to you.