About


With years of committed quality service to clients throughout the Palm Beach and Boca Raton area, I focus on ensuring that my clients have the best possible experience with a realtor. Flexing nearly a decade of experience in the real estate arena, I know common issues that typically trouble people using a realtor's services and I have established a set of best practices that allow me to meet your needs in the most effective and efficient manner possible.

Working with a realtor can make your home purchase or rental selection experience much easier, especially using my guidance. My goal is to provide customers with accurate information about properties and provide the insight and knowledge to help them make the right decision. My years of experience have allowed me to understand your needs from the outset, limiting the time and energy you need to expend in finding your dream home.

Having worked with a broad range of clients during my years in real estate, I am adept at understanding your requirements and interests from the first meeting, giving me the opportunity to serve you with all the tools at my disposal. I have established a network of the best resources in the Boca Raton and Palm Beach area that aims to provide you with a seamless real estate experience.

The process of finding or selling your home doesn't have to be lengthy and headache-inducing. Your life and busy and stressful enough, and I can step in the remove the added pressure of finding the right place for you or the right buyers for your home. I firmly believe that my job as a realtor is to help reduce barriers and make your life easier, which is why I am proud to call myself "the realtor that cares."

Buying or selling a home is one of the biggest decisions you will ever make and it may have a tremendous impact on your future. Whether you are a couple looking for your first home together or are downsizing for retirement, I understand the unique needs you have in the real estate world and work hard to surpass your expectations.

Many important steps and services can be carried out by a realtor. Without top notch attention to detail and a desire to serve, your real estate transaction could suffer. When you need experience and compassion you can count on, contact my offices for the best possible real estate experience in the Palm Beach and Boca Raton area.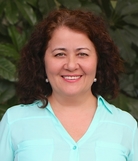 Sincerely,
Elionora Dudayeva