They say that money can't buy you happiness but, when you find your dream home at an affordable price this statement begins to ring in the sound of falsity. The residents here in Boca Raton, Florida offer a whole different perspective on this statement; proving that money plays a major role in the overall enjoyment of life. More specifically, Akoya West Boca exemplifies the definition of luxury, placing gracious hospitality and elegance at the top of their priority list. This community includes 113 of the best condominiums that money can buy all dwelling in the heart of the "#1 Private Residential Country Club in the Nation." You may think you are merely purchasing your next home but, what you are really doing is investing in the lifestyle of your future.
Starting at around one million and roaming well over about four million, these models of sophistication come at a very reasonable price. Say goodbye to second hand and hello to the laps of pure luxury. Your new neighborhood takes safety very seriously with twenty-four-hour security amidst the golden gates of Boca West. If you desire to venture outside of your home, you will find over 400,000 square feet of club facilities within walking distance of your private residence. Other premier amenities include outstanding dining, golf, tennis, a spa, fitness center, as well as a laundry list of other enticing amenities.
From the moment you enter this neighborhood, the notch of volume for drama and expressiveness is booming in opulence. The valet will greet you at the porte-cochere arrival court, even eliminating parking your own car from your previous daily tasks. There is also a privacy-controlled elevator system providing safe and secure access into the exclusive foyer. As Akoya Boca West prides themselves on staying current with the progressing times, you will even find charging stations for your futuristic electric car.
Boca West Country Club Aeriel photo, courtesy of akoyabocawest.com: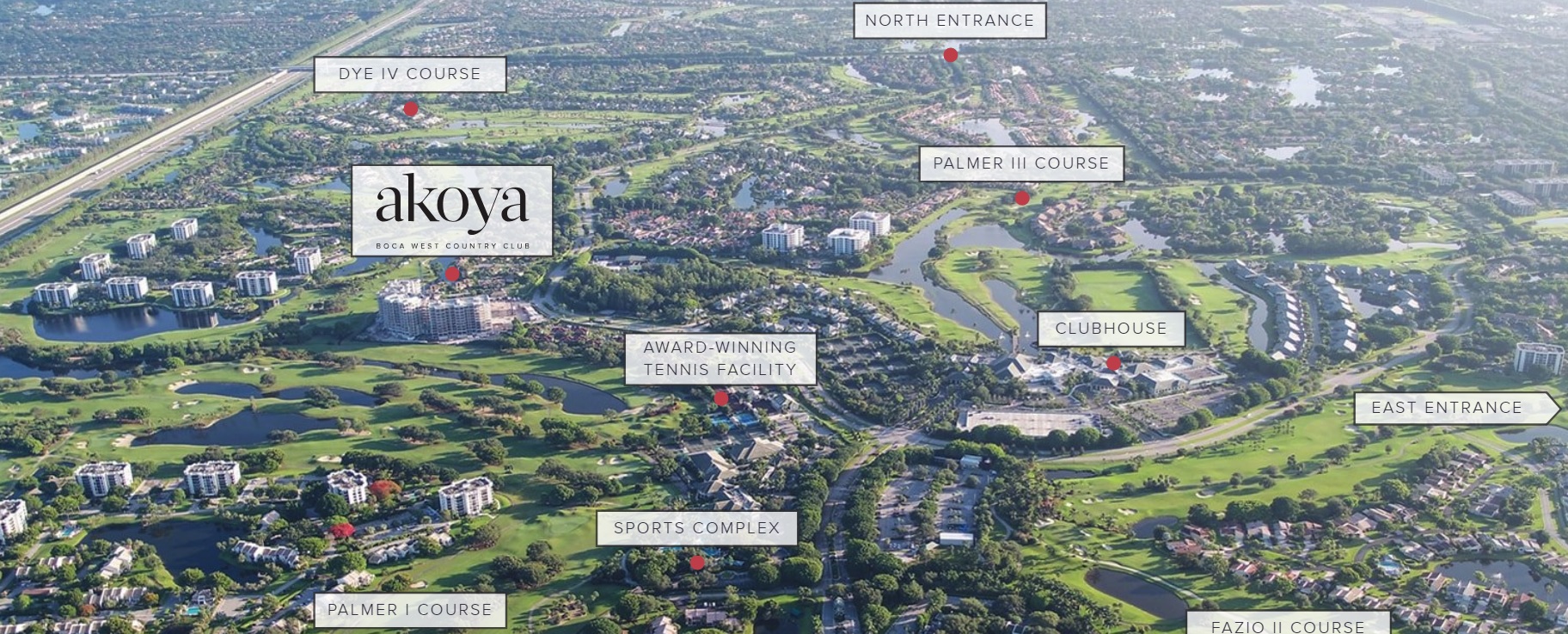 You'll find these in the private enclosed garage that allots two spaces to each residence for parking. If you have an appetite for collecting, you will relish in the air-conditioned resident storage areas for all of your valuable belongings. If socializing is your idea of fun, then you will delve into card rooms and a social room that regularly houses various parties and social events. You will keep yourself in ideal shape for all of these events at the twenty-four-hour fitness center full of all the most modern machines and equipment. If outdoor activities are more your style, then you will melt over the resort-quality swimming pool and sun deck that features cozy lounging areas with a picturesque view of all the surrounding tropical landscape.
Akoya Boca West is conveniently central to many sparkling assets of this lavish city of Boca Raton. If you're looking for your next extravagant outfit for the evenings awaiting adventures, you will love exploring all the latest fashion at your fingertips. Your new home is close to the unique boutiques of Mizner Park as well as the vast variety up for discovery at the Town Center Mall.
With easy access to I-95 and the Sawgrass Expressway, your next adventure is more accessible than you may think. Whether you need to catch a flight at the nearby airports or want to enjoy a staycation in neighboring cities, you will find the location of your new home is one of the most valuable aspects of your recent real estate journey.
Let Us Help!
Step out of the common nature of your past living quarters and into the arms of elevation towards your extremely bright future home. Here in Akoya Boca West, you get to enjoy the luxuries of the best country club in the city of Boca Raton, Florida without any of the maintenance responsibilities.
Aside from the scene setting weather, you will think that you're truly living in paradise with all the resort-style amenities available to your everyday accessibility. If you're ready to purchase your ticket to happiness, check out all the active listings that we cover below. Please feel free to give us a call at your convenience so that Chance Realty can bring you one step closer to owning the home of your dreams. We look forward to working with you.
561.306.6372
Similar Communities:
Parkland Golf and Country Club