If you were looking to live in one of the best cities and live on a waterfront with perhaps an ability to dock your boat. You'll love to learn about the great boating community of Boca Bayou Condos. Built in the 1980s to 1990s is about 50 acres with 27 condo buildings and 721 total units. Each condo building will vary in size from 3 to 6 stories and there are about 50 boating docks which can be private or shared.
Most people flock to Boca Raton for it's the serene environment, safety, luxury, and family-friendly environment. However, with Boca Bayou, you can take it up a notch since this is a water enthusiast dream come true. You can access the Intracoastal from the community and it is also right across from the prestigious Royal Palm Yacht and Country Club.
Boca Bayou Condos
You'll be glad to hear that the condos are priced very moderately in comparison to other waterfront properties. You can secure a 2 bedroom 2 bath condo anywhere from $150,000 to $300,000. Due to the high number of total condos, there are always ample amount of listings to choose from.
A lot of the units have also been renovated with modern design, new kitchen appliances, built in laundry/dryer, flooring and some have impact glass. As mentioned before you do have the ability to also dock your boat and the beach is only 2 miles out.
There are also a ton of amenities as well:
-Security
-Gated Community
-Putting Green
-5 Heated Swimming Pools
-Library
-Tennis Courts
-Billiard Room
-Two Fitness Centers
-Sauna
-Lawn Care
-Laundry
Boca Bayou Area and Schools
The area where the condos are located in a very safe and peaceful neighborhood. You are also minutes away from Mizner Park, which is the go-to spot for entertainment, shopping, and nightlife for Boca Residents.
It is home to IPIC movie theatre, Boca Art Museum, a variety of boutique stores, fine dining and sports bars. Occasionally, there are some live concerts and food truck gathering that take place as well. If you love shopping the famous Boca Simon Mall is also a little further west with a ton of brand name stores you'd expect a luxury mall to have.
If you have children there are also really great schools around: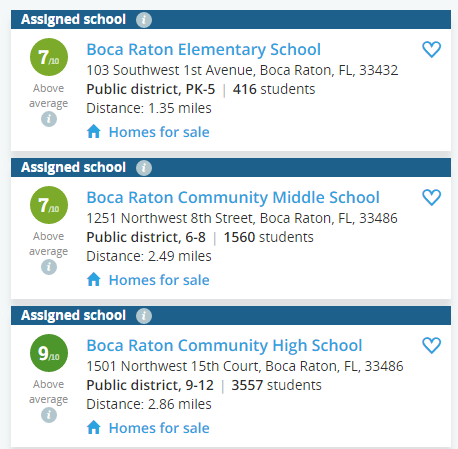 Work with Us!
Whether you're looking for a condo in this specific community or something similar, you should only work with the best. Here at ChanceRealty, we have decades of experience and know Boca like no one else because we live and work in this wonderful city. Our focus is 100% on finding you your dream home and also leaving a memorable experience of house shopping! Call us today or check out all the available listings for this community below. If you don't see any, that simply means there are none currently available and you should call us so we can check what's coming soon.