People flock from all over the country to the breathtaking city of Boca Raton to enjoy its beauty and luxurious lifestyle. It is a very safe, clean and prosperous city to raise a family, so why wouldn't they. But some can get even more out of this wonderful city by finding a home in a great community. One such community that is absolutely amazing in all aspects is the Boca Raton Bath and Tennis Club.
A community situated in a central location of Boca within a minute drive from major highways and some of the best shopping plaza's. Here you can enjoy everything a country club has to offer without paying high annual membership fees. The community offers the most serene environment with lots of greenery, parks, and lakes. There are about 8 parks and 3 large lakes with lots of vegetation around each home which makes it a perfect place to go for a walk after a long day at work.
Homes in Boca Raton Bath and Tennis Club
There are around 250 homes within the community that was built in the late '80s with some newer constructions as well. The homes are situated on a lot of land between 0.25 to 1.5 acres with ample space to have a nice backyard. Homes will vary in size from 2,500 to about 8,000 square feet with price tags between $500,000 to around $2 million. Most of the homes are updated with spacious bedrooms, walk-in closets, his and her bathrooms, pools, generators and much more. You can expect to have around 4 to 6 homes at any given time listed for sale in this community so there are some options.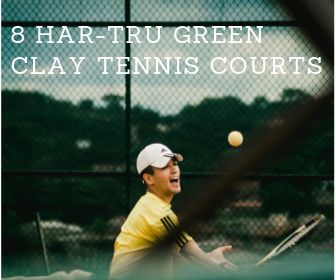 Boca Raton Bath and Tennis Club Amenities
I'm sure you have derived from the name that this must be a tennis players paradise. And you're not wrong since the community offers eight Har-Tru Green Clay tennis courts. If that wasn't enough you can also join training camps to perfect your technique. There is more than tennis courts though, here is a complete list of all of the amenities in addition to the tennis courts:
24 Hour Staffed Security Gate

Basketball Court

Racquetball Court

Beach Volleyball Court

Clubhouse that you can host large events

Olympic Size Swimming Pool

Playground
And all this is only going to cost you around $400 to $500 per month in HOA Fees which is very reasonable.
Boca Raton Bath and Tennis Club Area
You'll be pleased to know that Boca Raton is a very safe city but too make things even better, this community is walking distance from the Fire-Rescue Department. The big and luxurious Simon Mall is also pretty much a few blocks away. You have close access to both I-95 and Florida's Turnpike for an easy commute to work.
Mizner Park which is home to IPIC movie theater, Boca Art Museum, Fine Dining and Boutique Stores is only 5-minute drive as well. If you're a business owner you'll be glad to know that all the finest office space is situated within a close proximity. The Boca Executive airport is also right around the corner, so as you can see this is a prime location.
If you have children, you'll be glad to know that they will have access to some of the best schools, here is a list:
Calusa Elementary School rated "10" by GreatSchoos.org
Omni Middle School rated "9" by GreatSchoos.org
Spanish River High School rated "9" by GreatSchoos.org
I hate to sound like a broken record but Florida Atlantic and Lynn Universities are also walking distance from the community.
Work With Us!
Whether this or any other similar community is a place where you want your home to be, you should only work with the best. Here at Chance Realty, we really do our homework to ensure we can transfer over that expertise to you. Because we don't want another customer we want a lifelong client who will become a part of our family. Below this article, you'll be able to see all available listings for Boca Raton Bath and Tennis Club. If nothing shows up that means nothing is available at this time but feel free to contact us for coming soon listings in that area or similar properties. Welcome to Chance Realty!