If you're looking for Russian realtors in Miami, FL, then you're at the right place. Give us a call today and let us help you find your new home. We are Russian speakers who can assist you in all your real estate needs.
Learn more about Miami, FL below.
The current population of the state of Florida is a whopping twenty one million individuals, a third of which resides in the city of Miami and more residents are still trickling in as every day passes. Miami is considered as the city of the sunset definitely has a beautiful coastline but far from that, it is a major center and leader in finance, commerce, culture, media, entertainment, the arts, and international trade. With this in mind, it comes with no surprise that this city boasts a very cutthroat housing market. Over the years the real estate market has witnessed growth in prices, sales, and the volume in a transaction.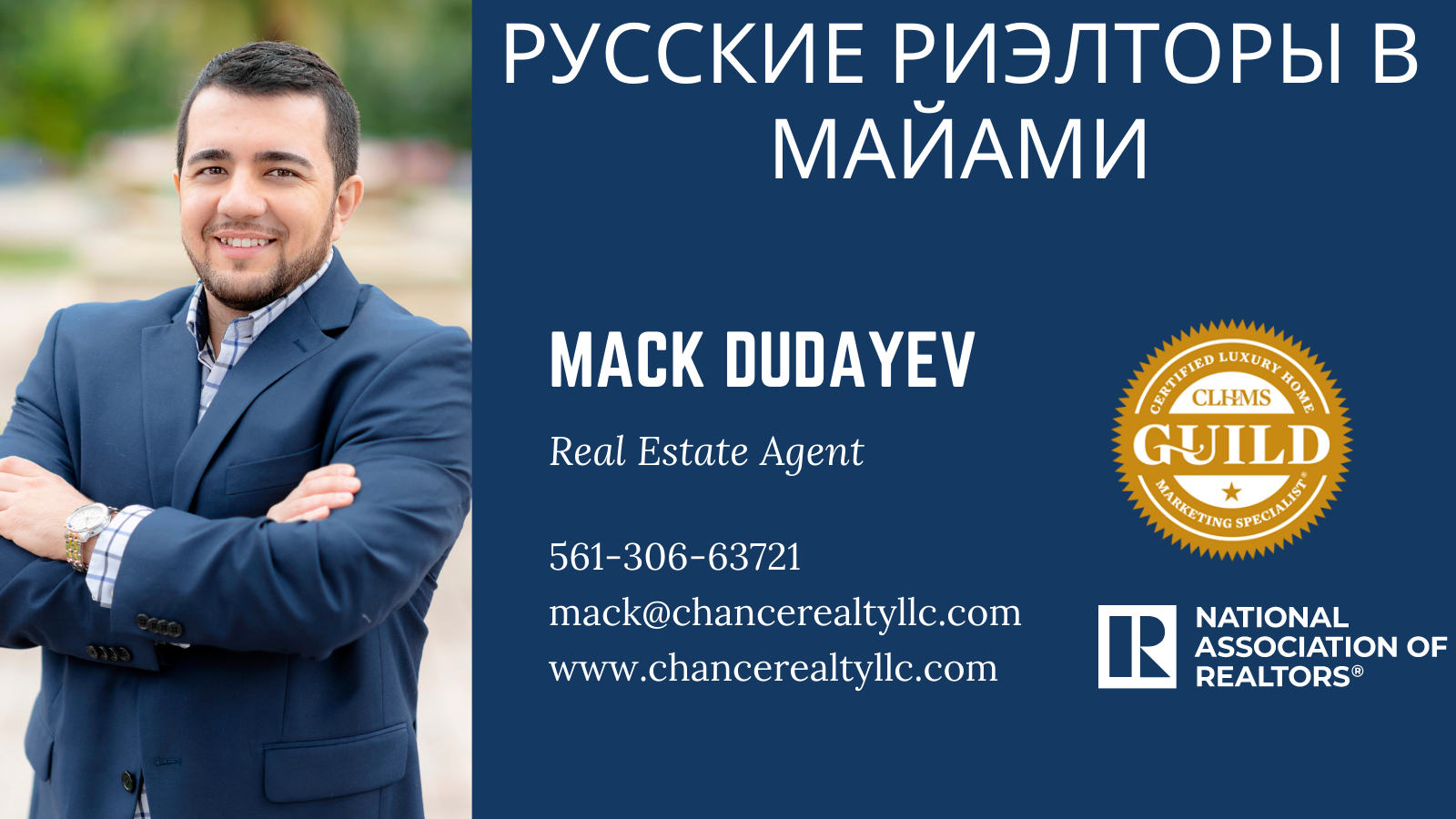 Miami Real Estate
It is no surprise to hear that Miami has some of the most expensive prices on its homes. The average price for a great home in the Miami real estate market is valued at $336,300. The good news is that, after years of growth, it seems quite clear the city is settling in a soft buyer's market. Here you will get to take a peek on the types of homes that are available in the market.
Gorgeous, highrise condos will be spotted in most places in Miami. What most do not know is that there are other types of homes at the reach of the buyer's pocket and desires in this cosmopolitan city by the oceanic view. Read on to see some of the most common types of homes in the city;
Bungalows
It is a well-built home that is simplistic in design but carry an array of modest yet charming outward look. They are very popular in most neighborhoods. The design has great qualities that make it adored by many. They are resilient in that, they are capable of withstanding harsh weather conditions such as tropical storms, intense humidity, and even hurricanes. That's largely due to their meticulous construction, which features architectural details like pitched gable roofs, overhanging eaves, and a gabled front porch.
Luxury condos
There is a forest of these buildings available in a lot of neighborhoods. The condo market in Miami is a big one, and as their prices become more attractive, buyer demand accelerates. To be sure, buyers have a multitude of choices when it comes to high-rise luxury condos and accompanying amenities, from in-house botanists to yoga and pilates studios. They'll just need the budget to match.
Mission-Style Homes
Just as the name suggests. The design of the home has been heavily inspired by the architectural construct of the Latin Mission houses of worship. Not to be fooled these too are considered bungalows. The difference may not only arise from the structure but also from the building materials used. For the exterior part of its walls, it is made of limestone and the roofs are tiled.
Mediterranean Revival
This is a very popular design in this coastal city, with a vintage build that mimics a historic architecture. It very advantageous for buyers who are more into the aesthetics of a beautiful home. They have an aura of romance in their structure that borrows heavily from the Spanish and Italian renaissance. Not to forget a garden always accompany such a structure.
Bahamian and conch
These types of homes are the remnants from designs of the past. Mostly during the 1890s through the 1920s. They have gabled roofs, that are more weather-resistant than flat roofs. In addition, weatherboard siding brings about a distinctive look to these homes. They are also raised off the ground so as to improve air circulation to combat the hot temperatures.
Art Deco Architecture
They are made to look beautiful, mostly applied decoration, colorful and very glamorous. Most of these buildings are used for commercial purposes like hotels and theaters but some are residential.
Finding a Russian Realtor
A great thing to do is to get familiar with some of the characteristics of a good realtor. This is to help in discerning who will best fit your needs.
A good realtor should :
Understand the housing market
A realtor has to be good at researching the market and utilize this knowledge to understand the dynamics of a specific community's housing market and its pricing strategy.
Show interest in houses and architecture
This will give the clients of a realtor a sense of comfortability and trust, as they believe he or she cares a lot for the industry he or she is involved in.
Show great skill in hustling and tenacity
A realtor must have the tenacity to pursue every lead and the hustle to aggressively market your properties in order to have success. It's not just about putting in a lot of time but also working smart and whatever is necessary to close the deal.
Be keen to details
A complete real estate agent is attentive to the unique needs of their individual clients. If he or she is organized, follow up with leads, communicate well, and pay attention to the needs of his or her clients, they will close more deals.
Be honest and have integrity
A professional realtor should exuberate these two virtues. He or she should be a member of the National Association of REALTORS. This is one of the ways that show he or she practices a high ethical standard.
Have an engaging personality
A good realtor does not sell the property alone but also takes it upon himself or herself to sell themselves. A realtor with a great attitude, confident and interested in helping people will definitely be the best candidate for a most home seeking individuals.
Be a problem-solver
Many successful real estate agents know how to properly showcase a house to make it more marketable and develop creative listings to attract the right buyers. With a good realtor, a good home will be matched to a good buyer.
How to Find a Good Realtor
Get equipped with these tips and step by step manual on how to score yourself a perfect real estate agent, so as to make your home buying experience smooth and of favorable results.
Consult a lender first
Make an effort of getting a preapproval letter on your mortgage. This way will get to know what is your limit when it comes to borrowing. It will also help you in sticking to the homes that are of the right price as per your financial capability. Having a preapproval letter gives your potential realtor a sense of seriousness when getting into dealings with you. Nevertheless, competitive advantage will be on your side as some realtors take much consideration to pre-approval letters when accepting your offer.
Get referrals
Your friends and family might know a great real estate agent with whom they have gotten to work with. In addition to this, you would want to get a realtor who has a great experience with individuals who have the same desires as yours.
Research on potential candidates
Use the internet as your friend and examine the online presence of the agents. Check their websites if they have one and their social media accounts. Do not forget to also try and get your hands on some of the reviews from their previous clients.
Interview a couple of real estate agents
This is to help vet the pool of agents as well as getting to know them deeper. You will know the best method of communication that they prefer, their vast experience in the industry and most importantly you will get to know the agent who is familiar with a particular area and understands your budget needs.
Request for references
Ask the real estate agent for a list of homes that he or she has sold in the past. Also, get the contact information for at least a few of the clients, call the clients and get to know their experience and what type of support the agent provided throughout the process.
Trust your instincts
Above all try to go with what your guts tell you. Get into business with an agent you feel comfortable with and trust.
Give great attention to the contract
The contract should be well detailed and should have all the terms that you had already agreed upon, including the real estate commission
About Chance Realty, the Florida real estate agency for Russians
Chance Realty majorly services clients that seek to be part of the residency in Palm Beach and Broward counties. As part of their objective, it is important for them to create the best experience in getting a home.
Chance has a great reputation for it has been in the market for a great number of years. In that respect, it has also gotten its hands in a vast spectrum of clientele.
With all this experience they are definitely the best option to help in getting you a great home. In addition to this, they have a great option because they have an understanding of each of their client's requirements and interests, from which they get to use it to serve their customers to maximum satisfaction.
The company is well equipped with the ability to help anyone who wants to dab in the real estate industry. Be it your first home purchase or even a purchase that aims at downsizing for retirement.